rOb.by - Your Ultimate News Alert App!
Don't miss anything important again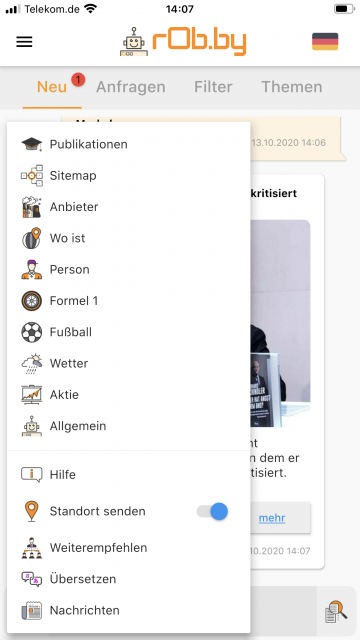 With rOb.by you will always be up to date and will not miss any important news. Our app offers you a straightforward interface that makes it easy for you to access the latest events. Regardless of whether it is about political developments, economic changes or sporting events - you will always be the first to be informed.
With rOb.by you can also set personalized notification rules. You decide when and how often you want to receive notifications and which categories and topics interest you most. This way you only get the news that is really relevant to you.
But that is not all! With rOb.by you can also chat in groups and exchange ideas with other users. The best part is that you can chat in different languages. This means you can connect and communicate with people all over the world, regardless of the language they speak.
Our app also offers a wide range of customization options, so you can make it your own. Choose from different colors, fonts and themes to create your personal messaging experience.
rOb.by is the perfect app for everyone who wants to be constantly up to date and likes to exchange ideas with other people in different languages. Download it here today for your Android or iOS device and stay informed!
The multi-language chat feature
rOb.by's multilingual chat feature is unique and offers seamless communication between people speaking different languages. In the group chat feature, users can write in their preferred language and the other group members will see their message in the language they set for the app's interface. This means that each user can communicate in their own language without any misunderstandings. This feature is ideal for people who would like to make international connections or stay in touch with friends and family in other countries. With rOb.by it is easier than ever to communicate in a group with people from different countries and cultures without encountering the language barrier.
Clubs, parties and associations consisting of members of different nationalities or languages can use rOb.by to use a group chat function where everyone can communicate in their preferred language. This greatly facilitates collaboration and the exchange of ideas and information. Groups of friends and interest groups also benefit from the multilingual chat function. They can converse in their preferred language without misunderstandings. The ability to communicate in different languages also promotes understanding and cultural diversity. Overall, rOb.by's multilingual chat feature offers an excellent opportunity to ensure effective and harmonious group communication, regardless of the language and nationality of the group members.