Benefits of rOb.by-App
Finding without Searching
You know that, you are constantly on the Internet looking for interesting information and important events.
As a scientist, how do I keep up to date with new publications, e.g. about Artificial Intelligence?
Where can I find the best bargains?
Do I have to expect bad weather, i.e. rain, thunderstorms or snowfall, when I am at home in or on the road?
When will my favorite club play next time? And - on which channel will the game be broadcast.
How are the prices of my shares developing? Are there any important upward or downward movements?
in Dortmund or in the world? What important things are happening in my surroundings or in the world? Or what does the press report about bargains?
How can I simply chat with my friends and acquaintances in other languages without having to permanently copy / paste the translations from any translator?
Let me be your daily companion and assistant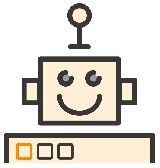 I am not spamming you. You will only receive notifications if you have requested them yourself. To do this, you define rules that you can change, pause or delete at any time.
If I know where you live and / or where you work, then I can tell you whether you have to expect bad weather on the way to and from work or for your leisure activities.