NAS - News-Alert-System
The News Alert System NAS offers various query and notification functions based on databases with news, publications, weather, sports, stocks and events.
The NAS system is operated as SaaS (Software as a Service) on servers of providers in Germany. It accesses various databases and functional components for operation.
The master and movement data of the users are managed in the user DB.
The data required for answering questions and for alerting are searched for in databases that are regularly obtained from external big data providers or come from public data sources such as Wikipedia (open data).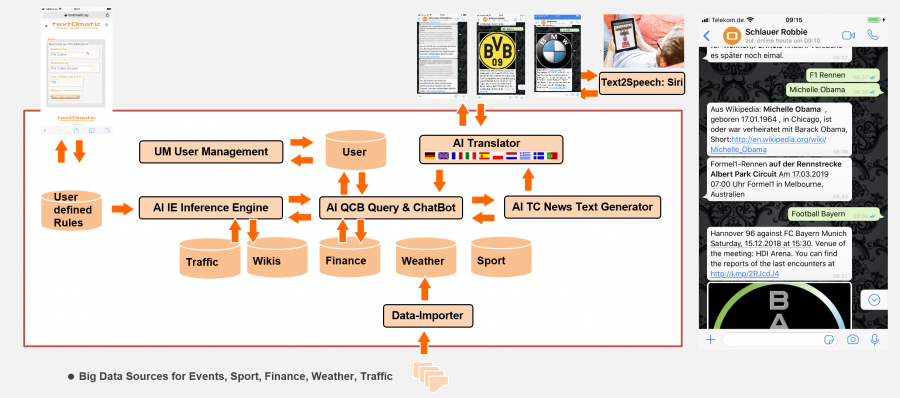 System Architecture of the NAS-System
NAS functional components
The User Management (UM) manages the member data.
The data importer consists of a large number of processes that regularly import data from external data providers.
The News Text Generator (NTG) uses the information found in the database to generate chatbot responses, news texts or reports in natural language.
The Query and Chatbot (QCB) processes the requests that come either directly from the user or from the trigger scheduler. It sends the data found to answer the request to the NTG.
The translator accepts the requests from the user and translates them into the processing language required for the QCB. The response generated by the NTG is translated into the desired target language by the translator.
The response to a request to the QCB is delivered to the user via a messenger such as WhatsApp or by email.
The Chatbot Browser Client (CBC) enables the user to make inquiries via a standard Internet browser.