Download the free rOb.by app from the Apple Appstore or Google Play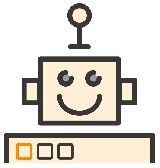 Create your user account and get access to all of your mobile devices.
We always look forward to hearing from you! Send us feedback, questions or suggestions to robby@rob.by
rObby News-Alert-System (NAS) and Chatbot
rOb.by by textOmatic is a hyper-personalized notification and search app for iOS and Android devices. You will receive exactly those notifications from the press, events, sports, finance, culture, technology and science that interest you.
With rOb.by you can
have articles sent to you from the best magazines, newspapers and news portals
create your personalized info channels, e.g. for

Hamilton, Meghan, Neymar, Putin

chat with your friends all over the world in several languages at the same time
stay up to date on the latest news
receive the most important information about your favorite artists or celebrities on the same day
inform you in time about upcoming events and concerts
keep an eye on important changes in the financial and stock markets
let you be alerted when friends are near you
What is unique about rOb.by?
With alarm rules you can define once which notifications should be sent to you as PUSH.
The messages will find you and therefore you will not miss any important events, publications and news anymore.
Instead of installing a flood of different news apps you only need the rOb.by app.
rOb.by collects the messages from the most important news sources and sends you a message then and only if it fits the notification filter you set.
You won't miss soccer, handball or formula 1 races anymore, because rOb.by notifies you in time and reminds you shortly before the start of the broadcast on which TV channel the event will be broadcast.
Why else rOb.by?
There are no subscription fees for the basic version of rOb.by.
rOb.by-WEB: You can send requests to rOb.by directly via the internet browser of your computer and receive the answers there as well.
At rOb.by you are always logged in, which means you do not miss any notifications. You don't have to think about whether you are currently logged in or logged out. With your address book you can quickly and easily connect to your contacts who also use Rob.by.
You don't have to remember complicated usernames. Even if you miss your notifications or turn off your phone, rOb.by will save your current messages until you next use the app.
Share your location, exchange contacts, find out where your friends are and where there are shopping and dining opportunities in your area.
rOb.by uses the internet connection (5G/4G/3G/2G/EDGE or WLAN, if available) of your phone.